---
Veal Scallopini with Avacado
---
INGREDIENTS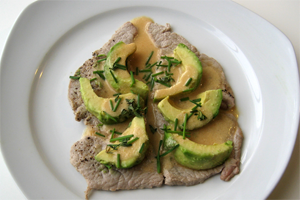 1 ripe avocado
1 wedge fresh lemon
2/3 lb veal scallopini   #28257
salt and pepper
2 tbls extra-virgin olive oil   #13736
1 tbls butter, cut into pieces
1/4 cup dry vermouth or white wine
3-4 tbls cream   #44151
1 tbls fresh thyme leaves, to garnish
2 tbls chopped or snipped chives, to garnish
DIRECTIONS
Cut avocado in half all around and down to the pit. Twist the avocado to separate the halves. Use a spoon to pop out the pit. Scoop out the avocado flesh in one piece from each half with a large spoon. Slice the avocado into 6 pieces per half and squeeze a little lemon juice on them to slow down discoloration from the air. Put aside the avocado for later.
Season the scallopini with salt and pepper. Heat the olive oil and butter in a large skillet over medium – medium high heat. Add the scallopini and cook about 2 minutes on each side. Remove the veal to a platter or individual plates.
Add vermouth or wine to the pan and deglaze it, lifting up any color or veal bits. Add cream and stir it in. Turn off the heat and let the cream bubble 1 minute. Arrange the avocado on the scallopini. Pour a little sauce over the veal scallopini and avocado and garnish with a generous sprinkle of chopped thyme and chives.