---

Spring Salmon

---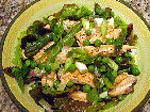 INGREDIENTS:
SALMON
3 - 4 oz white spring salmon fillets
lemon juice
olive oil
salt and pepper
VINAIGRETTE
1/2 cup english cucumber, diced
1 shallot, finely diced
1 tbsp white wine vinegar
2 tbsp olive oil
salt and pepper
SALAD
2 handfuls ruby red or butter leaf lettuce
1 bunch scallions
1/2 cup green peas
3 stalks asparagus, sliced diagonally
lemon juice
salt and pepper
DIRECTIONS:

Preheat oven to 400° F. Lay your salmon on a parchment lined baking sheet. Squeeze a good amount of lemon juice, drizzle with olive oil and season with salt and pepper. Bake for 10 - 14 minutes depending on thickness of fish. Once cooked, let it cool. Break up the pieces into natural flakes and refrigerate.
In a small bowl, mix together your finely chopped cucumber and shallot. Pour in vinegar and season with salt and pepper.
Stir in olive oil. Wash and dry lettuce.
Cut off end of your scallions and peel off the outer layer. Thinly slice scallions on a diagonal and place in a medium bowl. Cut off tough bottom end of asparagus and discard, cut the rest on a diagonal. Blanch peas and asparagus for 30 seconds in well salted boiling water. Rinse under cold water and add to the bowl with scallions.
Dress the lettuce with about half of the vinaigrette. Divide lettuce onto plates. Sprinkle the salmon over the lettuce. Dress the scallions, peas and asparagus with the remaining vinaigrette and pour over salmon and lettuce.