---

Veal with Basil Butter
---
INGREDIENTS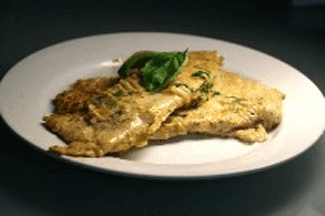 8 3.5oz veal cutlets, pounded thin   #28506
1/2 cup flour for dredging   #09125
1/2 tsp salt   #13791
1/2 tsp fresh ground black pepper   #14030
2 Tbs butter   #44110
2 Tbs extra-virgin olive oil   #13736
2 shallots, chopped
10 cherry tomatoes, sliced in half   #87053
1/2 cup of white wine   #10445
1 cup chicken stock   #02863
1/4 cup fresh parsley, chopped   #87120
Juice 1 lemon   #10262

BASIL BUTTER
6 Tbs of butter, softened
1/2 cup of fresh basil, chopped
2 cloves of garlic, mashed
DIRECTIONS
Preheat oven at 325 degree.
Butter a large baking dish.
In a small bowl blend together the butter, garlic and basil until smooth.
Season the veal with salt and pepper.
Dredge veal in the flour.
In a large skillet sauté the veal in the butter and oil until brown.
Place the veal in the baking dish.
Sauté the shallots and cherry tomatoes for 2 minutes in the skillet until tender.
Deglaze the pan with the wine and bring to a boil.
Add the chicken stock and bring to a boil.
Pour the sauce over the veal and cover and bake for 25 minutes.
Melt the basil butter in a small saucepan.
Plate the veal and spoon over the basil butter over the veal and garnish with parsley and finish with squeeze of lemon juice.