---

Smoked Cheddar, Caramelized Onion & Apple Grilled Cheese
---
INGREDIENTS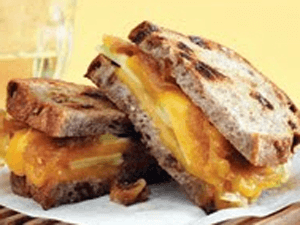 2 tbsp butter   #44115
1 small onion, thinly sliced   #87035
¼ tsp salt   #13790
Pinches of granulated sugar (#9580)
4 walnut or raisin walnut bread, sliced
4 oz smoked cheddar, thinly sliced   #20620
½ granny Smith, thinly sliced   #87000
DIRECTIONS
Saute onions in a little butter, season with salt and sugar. Stir just until onion starts to soften, a couple of minutes. Reduce heat to low and stir frequently until a deep golden colour, about 10 minutes.
Spread remaining butter over 1 side of each slice of bread (walnut bread tends to be small so you may have enough for 3 sandwiches). Place half the cheddar on 2 or 3 slices. Top with onions (you will have leftover) then apple. Finish with remaining cheddar and bread, butter-side out.
Grill over medium heat until cheese is melted and bread slices are golden, 3 to 4 minutes a side. Press with spatula to help sandwiches stick together better.