---
Berry Sundae
---
INGREDIENTS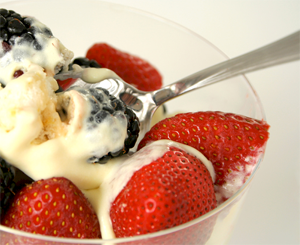 2 1/4 cups frozen strawberries   #36621
3/4 cup raspberries   #36241
3/4 cup blueberries   #36256
3/4 cup blackberries   #37834
3 tbls sugar   #09580
2 tbls orange liqueur
2 tsp grated orange rind
1/2 tsp chopped mint
3 cups strawberry ice cream   #47103
Garnishes: orange zest, fresh mint sprigs
DIRECTIONS
Combine berries and next 4 ingredients, tossing lightly to combine.
Cover and chill up to 4 hours.
Good for about 2 days in the refrigerator.
Scoop 1/2 cup ice cream into serving dishes.
Spoon 2/3 cup of berries over ice cream in each dish.
Garnish with mint and serve immediately.