---
Warm Calamari Salad
---
INGREDIENTS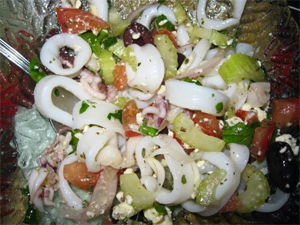 1 1/2 lbs cleaned squid
2 tbsp lemon juice
1 tbsp red wine vinegar
1/3 cup extra virgin olive oil
2 garlic cloves, minced
1/2 tsp salt
1/4 tsp fresh ground black pepper
1 cup thinly sliced red onion
1/3 cup pitted kalamata olives, halved lengthwise
2 cups cherry tomatoes
2 celery ribs, sliced (cut into 1/4-inch-thick slices)
1/2 cup fresh flat leaf parsley, plus more to taste
2 tbsp chopped fresh basil
1/4 cup crumbled feta (optional)
DIRECTIONS
Rinse all the squid under running water and pat dry.
Cut the tentacle bunches in half, and cut the bodies into 1/4 to 1/3-inch wide rings; cut the wings from the bodies.
Fill a 5 or 6 quart pot full of water, add a couple teaspoons of salt, and bring it to a boil.
Prepare a bowl of ice water. Cook all the prepared squid pieces in the boiling water until just opaque, a brief 40 to 60 seconds, then remove from pot and immediately plunge into the ice water to halt the cooking.
When squid has cooled, transfer to a colander, let drain, and pat dry; set aside.
In a small bowl, whisk together the lemon juice, vinegar, oil, garlic, salt, and pepper; add in onion, stir, and let the dressing stand for 5 minutes.
In a large bowl, combine the cooked squid, olives, tomatoes, celery, parsley, basil, and feta (if using), then toss with the dressing.
Let salad stand, tossing occasionally, for at least 15 minutes to allow the flavours to develop.
Note:: Although good eaten right after preparation, it's even better if you chill it for 8 hours, tossing occasionally - then bring it to room temperature before serving (about 1 hour); also, some people prefer the onion to be sautéed lightly before adding it to the salad. Makes 4 main course servings, 8 side dish servings