---

Baked Chicken with Brie
---
INGREDIENTS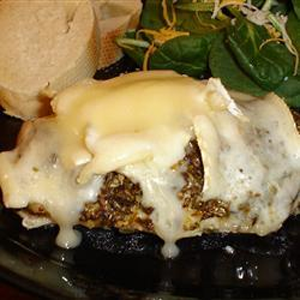 1 cup light beer or dry white wine
4 skinless, boneless chicken breasts   #31653
salt and black pepper 1 tsp dried oregano   #14010
8 oz Brie cheese   #20632
DIRECTIONS
PREHEAT the oven to 400 degrees F.
POUR the beer or wine into a glass baking dish large enough to lay out the chicken. Season the chicken with salt, pepper and oregano on both sides, and place in dish.
BAKE for 35 to 40 minutes in the preheated oven, or until juices run clear. While chicken is baking, slice Brie into thin slices.
When chicken is done, place slices of Brie over the top.
Return to the oven for 3 to 5 minutes, until cheese is melted.
Voila, chicken with Brie sauce is complete!