---
Maple Stuffed Turkey
---
INGREDIENTS
(12 servings)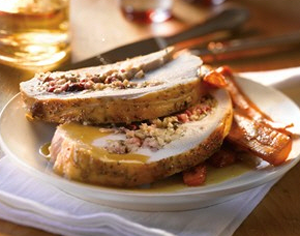 ¾ cup butter, divided and softened   #44110
6 tbsp finely diced onion
3 garlic clove, minced
2 tbsp fresh sage, chopped   #14090
¼ cup chopped fresh or frozen cranberries
2 ¼ cup cooked long grain & wild rice mix   #02215
1 (3.5 lb) turkey breast split   #32885
6 tsp olive oil   #13736
¾ cup real maple syrup   #11374
12 large carrots, cut into 3-inch pieces, lengthwise
salt and pepper to taste
DIRECTIONS
PREHEAT oven to 350°F (180°C).
HEAT 1 tbsp (15 mL) butter in a large pan, on medium-low, and sauté onions until transparent. Add garlic, sage and cranberries. Sauté for three minutes more or until cranberries have softened. Remove from heat and stir in rice, season with salt and pepper and set aside to cool.
DEBONE turkey by running a sharp knife along the bone, removing as much meat as possible. Place turkey breast flat with skin side up. Cut the breast in half lengthwise leaving a 1-inch (2.5 cm) hinge to keep as one piece.
SPOON the stuffing mixture into the center of the first piece of the breast leaving a 1-inch (2.5 cm) border around the sides. Fold the turkey breast around the stuffing, fully enclosing the stuffing and secure the turkey with a skewer.
TOSS carrots lightly with olive oil and place in a roasting pan.
PLACE the turkey breast on the carrots and rub with the remaining butter and pour maple syrup over the turkey. Season with salt and pepper; cover and bake for 50 minutes.
UNCOVER and continue to roast for 1 hour or until a meat thermometer registers 170°F (77°C).
ALLOW turkey to rest for 20 minutes. Remove skewers from turkey breast and slice in 1-inch thick slices.
SERVE with roasted carrots and maple butter pan drippings that have collected in bottom of pan.
TIP: Stuffing can be made the day ahead. Be sure to cool it completely before refrigerating overnight separate from the turkey breast. DO NOT stuff the turkey until immediately before cooking it.