---
Fusilli with Sausage, Artichokes and Sun-Dried Tomatoes
---
INGREDIENTS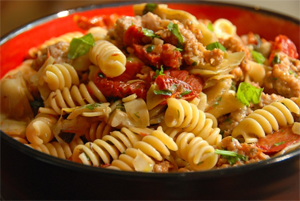 3/4 cup drained oil-packed sun-dried tomatoes, sliced,
2 tablespoons of oil reserved
1 pound Italian hot sausages, casings removed
2 (8-oz) packages frozen artichoke hearts
2 large cloves garlic, chopped
1 3/4 cups chicken broth
1/2 cup dry white wine
16 ozs fusilli pasta
1/2 cup shredded parmesan, plus additional for garnish
1/3 cup chopped fresh basil leaves
1/4 cup chopped fresh Italian parsley leaves
8 oz water-packed fresh mozzarella, drained and cubed,
Salt and freshly ground pepper to taste
DIRECTIONS
Heat the oil reserved from the tomatoes in a heavy large frying pan over medium-high heat.
Add the sausages and cook until brown, breaking up the meat into bite-size pieces with a fork, about 8 minutes.
Transfer the sausage to a bowl.
Add the artichokes and garlic to the same skillet, and saute over medium heat until the garlic is tender, about 2 minutes.
Add the broth, wine, and sun-dried tomatoes.
Boil over medium-high heat until the sauce reduces slightly, stirring occasionally, about 8 minutes.
Meanwhile, bring a large pot of salted water to a boil.
Cook the fusilli in boiling water until tender, about 8 minutes.
Drain the pasta (do not rinse).
Add the pasta, sausage, 1/2 cup parmesan, basil, and parsley to the artichoke mixture.
Toss until the sauce is almost absorbed by the pasta.
Stir in the mozzarella. Season, to taste, with salt and pepper.
Serve, passing the additional parmesan cheese alongside.
"This is a delicious recipe! If fusilli, sausage and sauce are all prepared ahead, the meal can be assembled in about 7 minutes, basically just heating ingredients through. Perfect for a quick lunch special on a cool autumn day!"