---

Leek & Smoked Cheddar Tart
---
INGREDIENTS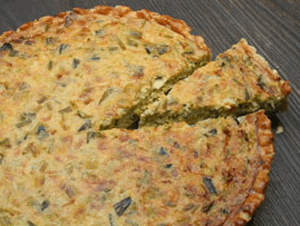 1kg leeks
100g butter   #44115
6 eggs  #33520
300ml whipping cream   #44166
1 tbsp dijon mustard (#7100)
180g of smoked cheddar, grated   #20620
Fresh thyme stalks, tied with string into a bundle
500g pastry – homemade or 9" deep dish pie shell   #36305
DIRECTIONS
Pre-heat the oven to 400F. Roll out the pastry and line an 11" pie plate. Place in the freezer for about 15 minutes to firm up.
Trim the leeks; if they are thick then quarter them lengthways before slicing roughly 1cm thick, thinner ones can just be halved lengthways before slicing. Then wash them thoroughly.
Melt the butter in a wide pan on a medium heat, then add the leeks. Turn the heat up to high, add the thyme, season and put a lid on.
Take the tart case out of the freezer and bake for 10-15 minutes. Once it is beginning to brown, mix the yolk of one of the eggs with a tablespoon of cream, brush this all over the base, sides and crown of the tart and put back in the oven for 10 minutes or until shiny and golden. Piercing crust bubbles, cool crust in pan on cooling rack.Reduce oven temperature to 350F.
Stir the leeks regularly for a further 20 minutes or until they are well softened. (keeping the lid on between stirs)
Crack the eggs into a big mixing bowl and whisk in the cream and mustard. Stir in the cheddar, then add the hot, softened leeks, discarding the thyme bundle. Season well, ladle the mix carefully into the tart case and cook for about 40 minutes, until light golden brown on top, and the egg has set. If you are using the 9" pie shells shorten the baking time and raise the temperature of the oven slightly.
Let it sit for 10 minutes before cutting. Serves 8.