---
Asparagus, Beet and Goat Cheese Salad
---
INGREDIENTS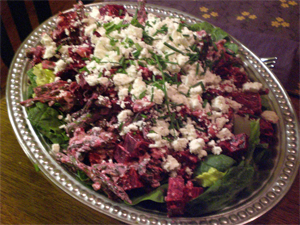 ¾ lb. (340 g) beets roasted, cooled to room temperature, and peeled
1 lb. (455 g) asparagus, cooked, and plunged into cold water to maintain colour
7 oz. (200 g) goat cheese   #18100
1 to 2 Tbsp. (15 to 30 mL) chopped fresh chives
Vinaigrette
1 tsp. (5 mL) Dijon mustard   #07070
1¼ Tbsp. (20 mL) raspberry vinegar
4 Tbsp. (60 mL) extra virgin olive oil   #13376
½ tsp. (2.5 mL) kosher salt   #13792
freshly ground white pepper to taste
DIRECTIONS
Cut the room temperature beets into 1-inch (2.5-cm) chunks.
Cut each room temperature asparagus spear into 2 or 3 pieces.
Cut the goat cheese into 1-inch (2.5-cm) chunks.
For the vinaigrette, whisk together the mustard and vinegar in a small bowl.
Drizzle in the oil, whisking continuously.
The vinaigrette will become fairly thick.
Mix in the salt and pepper.
Toss the beets in half of the vinaigrette and separately toss the asparagus in the other half.
Mound the beets and asparagus beside each other on 1 large plate or 4 smaller ones.
Or, if you prefer, toss the 2 vegetables together.
Top with the goat cheese and garnish with chives.
This simple and easy-to-make salad looks absolutely gorgeous. The colours are so vibrant, and the tastes of the three ingredients really complement one another.

**SERVE WITH TOASTED ROSEMARY FOCACCIA GARLIC SLICES**