---
Beer Braised Oktoberfest Sausage
---
INGREDIENTS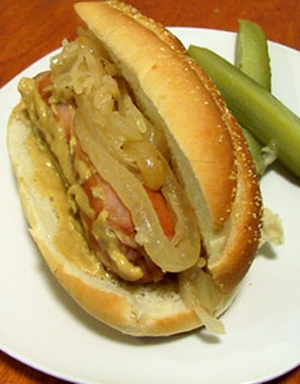 4 fresh Oktoberfest sausages
1 bottle of beer
2 medium onions
1 cup drained sauerkraut
1 tbsp of oil
DIRECTIONS
Chop onions into slivers and strain the sauerkraut into a colander.
Add oil in a deep skillet on medium high.
When oil is hot, add onions and stir until almost caramelized.
Pour the entire beer into the skillet.
Add the sausages and sauerkraut and braise on medium turning the sausages halfway and until the beer is about 1/4 left.
Serve on a bun with mustard or as is.
"This is the perfect time of year to feature sausages, especially the Oktoberfest sausage. Great on a bun with your favourite toppings, but the options are grand. A hearty all in one meal and now that the weather is cooling off it's just what your customers are longing for."