---
Home Made Turkey Stock
---
DIRECTIONS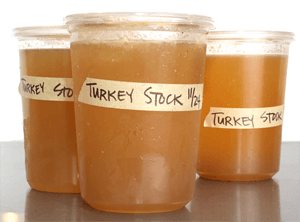 Place the whole turkey carcass in a large stockpot.
Add large chunks of vegetables and a few whole spices and sprigs of herbs.
Fill the stock pot with cold water to cover the ingredients by about two inches.
Simmer for several hours, adding a bit of water as necessary to maintain the volume.
You do not want the stock to boil, as this will lead to too much evaporation.
Also, the proteins and fats being released from the bones can emulsify and make the stock cloudy.
This will not affect the final flavour of the dish, but if you want a pretty and clear stock, make sure the stock does not boil.
The stock is ready when you can snap a small turkey bone in half with very little effort.
Strain the stock through a fine strainer, pressing down on the solids.
Discard the solids, and strain the stock again.
If you are going to use the stock immediately, carefully skim off the fat that rises to the top.
If not, you can leave the fat on as it can be more easily removed when solidified.
Standard Turkey Stock:
1 turkey carcass
1-2 yellow onions (skin on), cleaned and cut in half
2 large carrots, scrubbed and cut in half
2 ribs celery (leaves included), cut in half
Parsley stems
2-3 bay leaves
10-12 whole peppercorns
Cold water, to cover by 1"
Other additions or substitutions
Use leeks, well washed, instead of onions
Add 1 head of garlic, cut in half (or just a couple of whole cloves)
Chinese-Style Turkey Stock
In addition to the standard ingredients, add:
a ½" piece of fresh ginger
2 whole star anise pods
Italian-Style Turkey Stock
In addition to the standard ingredients, add:
white wine (about 1/8 of the amount of water)
2 tomatoes, quartered and seeded
2-3 tarragon sprigs or stems