---
Asiago Cheese w/ Oven Baked Tomatoes & Carmelized Onions on Focassia
---
INGREDIENTS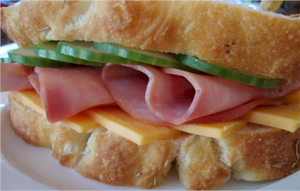 1 lb (450 g) Roma or Plum tomatoes
2/3 cup (160 mL) balsamic vinegar   #07271
1/4 cup (60 mL) soya sauce   #06485
2 Tbsp. (30 mL) vegetable oil   #13720
3 large yellow onions, cut into 1/4 inch slices
1/4 tsp. (1 mL) salt
1/4 tsp. (1 mL) pepper   #14031
1 Focaccia 6 x 8   #38313
DIRECTIONSFOR THE TOMATOES
Wash and quarter the tomatoes lengthwise.
Combine the remaining ingredients, and pour over the tomatoes.
Marinate for at least two hours or overnight in the refrigerator.
Drain and reserve the marinade.
If it has been refrigerated it can be used again.
Place the tomatoes, cut side up, in a shallow baking dish in a single layer.
Bake in a 300F (150C) over for up to 1 1/2 hours (depending on whether the tomatoes were refrigerated) until the tomatoes are slightly shriveled but not completely dried out.
FOR THE ONIONS
Heat oil in a frying pan on high, then add the onions and cook for 3 minutes, stirring constantly.
Season the onions with salt and pepper.
Lower the heat, and continue cooking for about 1/2 hour, until the onions are a deep golden brown.
Stir occasionally.
ASSEMBLY
Cut the focaccia in half crosswise.
Cover the lower half with lettuce, then layer with cheese, onions and tomatoes.
Top with the other half of the focaccia, and cut into 4 large, or 6 smaller portions.
The tomatoes and the onions can be stored for about a week in the refrigerator.