---
Mango Trout Mania
---
INGREDIENTS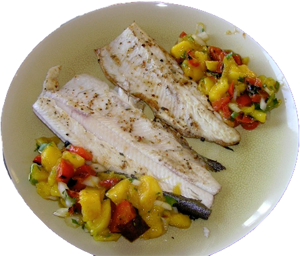 3 cups ripe mangos, peeled and diced
½ cup scallions, minced
½ cup cilantro, chopped
3 tbsp. lime juice   #10257
2 tbsp. olive oil   #13736
1 tsp. kosher salt   #13792
¼ tsp. red pepper flakes
12 Fresh Rainbow Trout Fillets   #65055
DIRECTIONS
In bowl combine all ingredients; toss to mix well.
Cover and refrigerate at least 2 hours before using.
Lay trout fillets on a lightly greased sheet-pan, skin side down.
Bake in a pre-heated 400°F convection or 450°F conventional oven for 16-17 minutes or until crispy golden and cooked completely through.
Top each fillet with ¼ cup of mango mixture and serve with your choice of sides.
"Trout is one of the most recognized species of fish in the world, a perfect addition to any menu. It's firm, smooth texture and mild, nutty taste lends itself to a world of flavours. It is an excellent source of DHA and EPA Omega-3s. that will satisfy your patrons demand for healthier menu offerings."