---

Red Thai Pizza
---
INGREDIENTS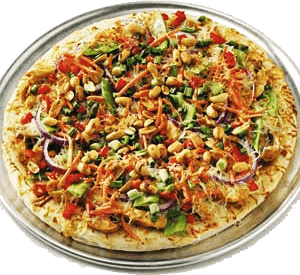 1 19 oz prepared pizza dough ball   #34139
2 tbsp vegetable oil
3/4 cup Saucemaker Red Thai Sauce   #06447
8 oz chicken breast, skinless, boneless, cut in narrow strips.   #59788
4 oz vidalia onion, sliced
2 oz snow peas
3 oz scallions, sliced into matchsticks
5 oz mozzarella cheese   #20625
3 oz white bean sprouts
DIRECTIONS
Pull and stretch dough to fit 15" X 10" (40 cm x 25 cm) or 10" (25 cm) pizza pan. Brush with 1 tsp (5 mL) vegetable oil.
In a skillet, heat remaining oil, stir fry chicken and garlic 3-4 minutes. Add onion, snow peas and scallions, fry 1-2 minutes.
Spread Saucemaker Red Thai Sauce on crust.
Arrange chicken mixture evenly over the crust. Sprinkle cheese over meat and vegetables, then add carrots and sprouts on top.
Bake at 425°F (220°C) for 10-12 minutes. YIELD: 1 10" (25 cm) Pizza (6 slices)

TIP:
Who says pizza has to be round?
Surprise your patrons with square, rectangular or an oval presentation!
Go ahead...this delicious pizza has authentic thai flavour, but it's more about sweet than heat. You'll crave the tender garlic stir-fried chicken strips, colourful vegetables, gooey-good mozzarella, julienned carrots and fresh bean sprouts. If you love Thai, here's a taste you've got to try!