---

Awesome Honey Pecan Pork Chops
---
INGREDIENTS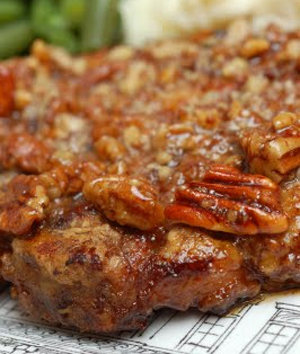 1 1/4 pounds boneless pork loin, pounded thin 27215
1/2 cup all-purpose flour for coating 09125
A pinch of salt and pepper to taste
2 Tbsp butter 44130
1/4 cup honey 12787
1/4 cup chopped pecans 11697
DIRECTIONS
In a shallow dish, mix together flour, salt and pepper.
Dredge pork cutlets in the flour mixture.
In a large skillet, melt butter over medium-high heat.
Add chops, and brown both sides.
Transfer to a warm plate.
Mix honey and pecans into the pan drippings.
Heat through, stirring constantly.
Pour sauce over cutlets.