---
Crunchy Mustard Chicken
---
INGREDIENTS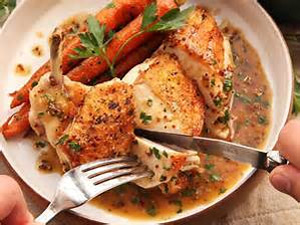 8 6oz chicken supreme #59760
½ cup crunchy mustard #06404
2 tbsp chicken stock, or more, to taste
1 tbsp olive oil #13736
1 tsp rosemary #14085
For the mustard rub
1 tbsp olive #13736
1 tbsp crunchy mustard #06404
Kosher salt and freshly ground black pepper, to taste

DIRECTIONS
1 - Preheat oven to 400 degrees F.
2 - To make the mustard rub, combine olive oil and crunchy mustard in a small bowl; season with salt and pepper, to taste.
Using your fingers or a brush, work the mustard rub onto both sides of the chicken.
3 - In a large bowl, whisk together crunchy mustard and chicken stock. Add more chicken stock as needed until desired
consistency is reached; set aside.
4 - Heat olive oil in a large oven-proof skillet over medium high heat. Add chicken, skin-side down, and sear both sides
until golden brown, about 2-3 minutes per side. Add mustard mixture and sprinkle with rosemary.
5 - Place into oven and roast until completely cooked through, reaching an internal temperature of 175 degrees F,
about 25-30 minutes. Serve immediately.
This is a wonderful recipe and can be prepared ahead and cooked to order.

Serve with seasoned rice and root vegetables.