---
Cheesy French Toast Hot Dogs
---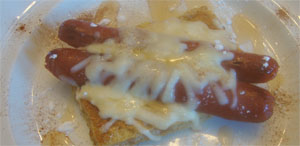 This recipe is a hit with kids of all ages! Simple and tasty, feature it this Sunday morning.
Also a great way to cross utilize your inventory!
INGREDIENTS
DIRECTIONS
Cut the hot dog lengthwise and place on a lightly greased, medium grill.
Whip the egg, milk and cinnamon in a small bowl and soak bread in it. Place soaked bread on lightly greased grill also. 1-2 min turn hot dog and grill the other side.
Grill french toast for 4-5 minutes, flipping 2-3 time, until golden brown and fluffy.
Arrange french toast on a metal tray, place hot dog next, sprinkle with mozzarella cheese and place in a salamander oven to melt cheese. If you do not have a salamander; arrange food on the grill and cover with a lid to melt the cheese.
Place stacked french toast on a plate and drizzle with maple syrup, icing sugar and cinnamon.
PROFIT POTENTIAL
Approx. Cost - $4.63
Suggested Sell - $12.99 - $15.99
Profit - $8.36 - $11.36
*Includes a provision of $.97 for golden crisp fries.