---
Calcannon with Sausage
---
INGREDIENTS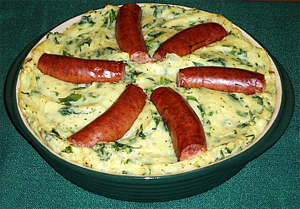 3 Lbs potatoes, peeled and quartered   #87113
1 tsp salt   #13791
4 cups finely chopped kale (stuff and pack measuring cup)
1 large chopped onions
½ cup butter   #44115
Pepper to taste
1 Lb smoked sausage (Cut into 6 pieces)   #24295
DIRECTIONS
Preheat oven to 350F degrees.
Cover potatoes with water and bring to a boil, reduce heat and cook until potatoes are tender.
While potatoes are cooking, bring water to a boil in another pan. Add the chopped kale into the boiling water. Boil for three minutes. Drain all the water off thoroughly and set aside.
Melt butter in a skillet then add the chopped onion. Sauté onion until tender and set aside.
When potatoes are finished cooking pour into a colander to thoroughly drain off the water. Place potatoes into a large mixing bowl. Slowly beat the potatoes until broken down. Increase speed of mixer and gradually add the butter and onion to the potatoes. Whip the potatoes until fluffy. Add salt and pepper to taste.
Remove bowl from mixer and add the drained kale to the mixture. Blend in with a large spoon. Spoon mixture into a baking casserole dish.
Arrange sausages on top of the potato mixture, pushing them slightly down into the potatoes.
Place dish in the oven and bake for 25 to 30 minutes or until top begins to slightly brown.
NOTE: This recipe is great warmed over. It is easier to cut when cold and the flavour is a little stronger when warmed up. Microwave works well for warming this dish.