---

Festive Chicken Wheels
---
INGREDIENTS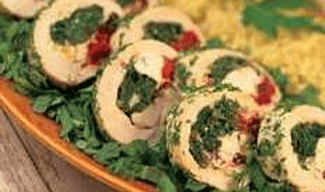 6 8oz bnls/sknls butterfly chicken breasts   #58708
8 oz. fresh baby spinach, chopped   #87150
8 oz. feta cheese, crumbled   #20654
8 oil-packed sun-dried tomatoes   #00719
2 Tbs. fresh basil, sliced   #87126
8 oz crimini mushrooms, sliced
1 red bell pepper, seeded & chopped   #87023
1 purple onion, chopped   #87036
6 cloves garlic, chopped   #87135
3 Tbs extra virgin olive oil   #13736
salt and pepper, to taste
DIRECTIONS
Preheat oven to 350 degrees F.
Flatten each chicken breast slightly with a mallet. Meat should be about 1/2 an inch thick. Sprinkle both sides with salt and pepper to taste.
In large frying pan, heat olive oil. Add onion, pepper, and garlic. Saute 3-5 minutes, then add the mushrooms and sauté until veggies are tender. Stir in chopped spinach and basil. Cover until spinach wilts.
Remove from heat. Stir in the feta. Add salt and pepper (to taste).
Place one-sixth of cheese mixture on each chicken breast. Neatly roll the breast into a tube. Secure with toothpicks. Bake (don't allow them to touch) in a greased casserole dish for 20-25 minutes. Slice before serving.
This recipe can also be served as a festive Christmas or New Years buffet main dish.