---
Citrus Atichoke Trout
---
INGREDIENTS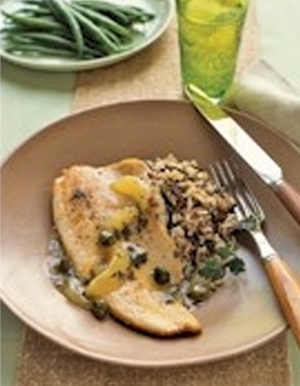 2 cups canned artichokes, chopped   #00525
½ cup roasted red peppers, chopped   #00645
¼ cup shallots, minced
¼ cup capers, drained   #06665
2 tsp. garlic, minced   #05225
1 cup mayonnaise   #05157
3 tbsp. parsley, chopped   #14025
3 tbsp. lemon juice   #10262
1 tbsp. lemon zest
1 tsp. cracked black pepper   #13881
12 Trout (8oz)   #42446
DIRECTIONS
In a bowl combine artichokes, red peppers, shallots, capers and garlic; toss to blend.
Add mayonnaise, parsley, lemon juice, lemon zest and pepper; mix well.
Cover and refrigerate until ready to use.
Lay trout skin down on a lightly greased sheet pan.
Spread top of each fillet evenly with ¼ cup artichoke mixture.
Bake in a pre-heated 400°F convection or 450°F conventional oven for 15-17 minutes or until golden brown.
Just before serving, run under broiler for 30 seconds if not browned enough.