---

Broccoli Quiche with Sausage and Smoked Mozzarella Cheese
---
It's cool to be square or at least rectangle when it comes to this quiche. This is excellent for buffets and by simply omitting the sausage you have a meatless version. To make the neatest slices, cool then refrigerate the quiche, cutting while cold. Re-warm in a low oven or bring to room temperature before serving.
INGREDIENTS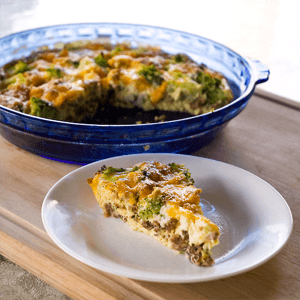 3 cups broccoli florets   #87160
3 tbsp unsalted butter   #44115
2 cups thinly sliced onions   #87035
1 garlic clove, minced   #87135
2 cups grated smoked mozzarella cheese   #20620
1 1/2 cups whipping cream   #44166
4 large eggs   #33520
2 tsp dijon mustard (#7100)
2 tsp chopped fresh basil   #87126
1/2 tsp salt   #13790
1/4 tsp ground black pepper   #14030
1 cup fully cooked smoked sausage, finely diced   #24547
600g pastry – homemade or 2/9" ready pie shells   #36305

DIRECTIONS FOR CRUST:
Position rack in center of oven and preheat to 400F. Roll out dough. Invert dough into 11 x 7 x 2 pan. Fold overhang in and press, forming thick high-standing sides. Pierce crust all over with fork. Freeze 20 minutes.
Line crust with foil; fill with pie weights. Place pan on baking sheet and bake for about 25 minutes. Remove foil and pie weights. Bake about another 8 minutes, until cooked through and pale golden, piercing crust bubbles with fork. Cool crust in pan on cooling rack. Reduce oven temperature to 350F.
DIRECTIONS FOR FILLING:
Steam broccoli until crisp-tender, about 2 minutes. Cool completely.
Melt butter in large skillet over medium heat. Add onions and saute until pale golden, about 12 minutes. Cool completely.
Place crust in tart pan on heavy large baking sheet. Arrange broccoli and sauteed onions in crust. Sprinkle with half of cheese. 4-Whisk cream, eggs, mustard, basil, salt and pepper in medium bowl to blend. Slowly pour egg mixture over broccoli and onions. Sprinkle with remaining cheese, then sausage. Bake quiche until golden brown and mixture has set, about 45 minutes. Cool on rack 30 minutes. Serves 12