---
Stuffed Double Bone Pork Chops
---
INGREDIENTS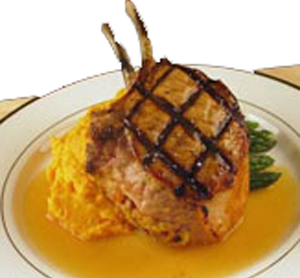 4 double bone frenched pork chops
OIive oil as needed
1 granny smith apple, cored & diced small
4 oz mirepoix, diced small
1/2 cup dried cranberries, chopped
3 cups cornbread, crumbled
2 oz butter, melted
2 oz chicken stock
Kosher salt to taste
Freshly ground pepper to taste
DIRECTIONS
Saute the apple and the mirepoix over medium heat until tender.
Mix the mirepoix, apples, cranberries, corn bread and chicken stock together.
Season to taste with salt and pepper. Using a sharp knife cut a large pocket into the pork chop and stuff each evenly with the stuffing.
Heat a grill to med-high and the oven to 350 degrees.
Season the chops with salt and pepper and place on the grill.
Grill for a few minutes on each side, then place the chops in the oven for approximately 18 minutes or until the tempature reaches 145 degrees.