---
Braised Short Ribs
---
INGREDIENT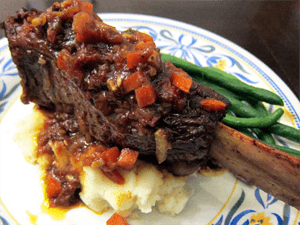 12 bone-in short ribs (4.75kg)   #29481
Kosher salt   #13792
Extra-virgin olive oil   #13734
2 large Spanish onion, finely chopped   #87038
4 ribs celery, finely chopped   #87016
3 carrots, finely chopped   #87055
5 cloves garlic, pressed   #87135
3 tbsp dijon mustard   #07060
3 tbsp brown sugar   #09603
1 cups tomato paste   #00714
4 cups red wine
4 cups chicken broth   #03607
4 sprigs of fresh thyme, tied
3 bay leaves   #13873
DIRECTIONS
Season short ribs with salt. Coat a pot large enough to fit all the meat and vegetables with olive oil and bring to a high heat. Add the short ribs to the pan and brown well, about 2 to 3 minutes per side.
Preheat the oven to 375 degrees F.
When the short ribs are very brown on all sides, remove them from the pan. Drain the fat, coat the bottom of same pan with fresh oil and add the chopped vegetables and garlic. Season with salt and brown until very dark and a crust forms on the bottom of the pan, approximately 5 to 7 minutes. Scrape the crust again and add brown sugar, mustard and tomato paste. Cook for 4 to 5 minutes. Add the wine and scrape the bottom of the pan. Turn heat to medium and reduce the mixture by half.
Return the short ribs to the pan and add broth, thyme and bay leaves. Cover the pan and place in the preheated oven for 3 hours.
Check periodically and add water, if needed. Turn the ribs over halfway through the cooking time. Remove the lid during the last 20 minutes of cooking to let the sauce reduce.
Serve over garlic mashed potatoes, with the braising sauce and a side of asparagus   #18100.