---
Rosemary and Parmesan Crusted Veal Chop
---
INGREDIENTS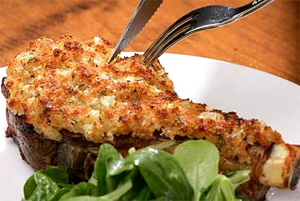 3/4 cup butter
1 1/2 cups Japanese panko crumbs
3/4 cup freshly grated parmigiano-reggiano cheese
2/3 cup finely chopped onion
1 tbs chopped fresh rosemary
Salt, pepper
6 large veal chops
DIRECTIONS
In a medium bowl, stir together butter, panko crumbs, cheese, onion and rosemary.
Add 1/2 teaspoon salt and 1/2 teaspoon pepper, or to taste.
Sprinkle each cutlet with one-fourth teaspoon salt and a good pinch of pepper.
Place the cutlets on the grill rack.
Cook, turning them once, for 5 to 8 minutes (115 degrees for medium rare).
The veal will continue to cook a little while standing after grilling.
Distribute the crust among the chops, coating each top generously.
Place chops in the broiler and cook until the crust is golden brown, watching carefully, 1 1/2 to 2 minutes.
Serve immediately.