---
Grilled T-Bone
---
INGREDIENTS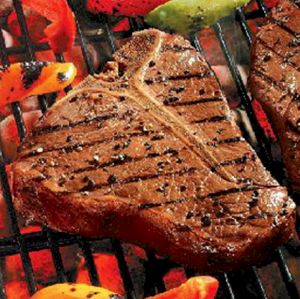 4 -1lb Beef T-bone steaks   #59516
1/2 cup water
1/2 cup soy sauce   #06485
2 tbsp brown sugar   #09603
2 tbsp lemon juice   #10262
2 tbsp red wine vinegar (#)
2 tbsp canola oil   #07285
1 tbsp montreal steak seasoning   #14110
1/2 tsp garlic powder   #13960
1/2 tsp hot pepper sauce   #06450
1/4 tsp pepper   #14030
DIRECTIONS
In a large resealable plastic bag, combine the first 10 ingredients.
Add steaks; seal bag and turn to coat.
Refrigerate overnight. Drain and discard marinade.
Grill steaks, covered, over medium heat for 8-12 minutes on each side or until meat reaches desired doneness.
For medium-rare, a meat thermometer should read 145°; medium, 160°; well-done, 170°.
Profit Potential
Approx. Cost - $11.23/serving*
Suggested Sell - $19.99 - $23.99
Profit - $8.76 - $12.76 /serving
*Includes a provision of $1.25 for potatoes, vegetables, garnish & marinade.