---

Chicken of the Sea with a Florentine Hollandaise Sauce
---
INGREDIENTS
(makes 10 portions)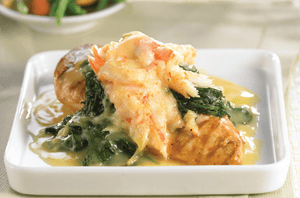 1 Luda Instant Hollandaise Sauce   #02681
10 - 5oz Chicken Breasts   #31672
50-75 mL Inspiration Condiment Mix for Meat (333376)
50 mL Garlic, finely diced   #05220
1 kg Fresh Spinach   #87151
7oz Crab Meat or imitation   #42169
5oz Parmesan Cheese   #20702
75 mL Olive Oil   #13731
DIRECTIONS
PREPARE the Luda Instant Hollandaise Sauce.
GRILL chicken until it is about 60-70% cooked. Place on a baking sheet pan IN a large sauté pan, melt the butter, then sweat the garlic and add spinach.
WHEN ready to serve, top the spinach mixture evenly on top of your grilled chicken. Top with the crab meat, then hollandaise and sprinkle with parmesan cheese.
BAKE in a convection oven at 400°F for 15 minutes or until done.