---
Grilled Apple and Honey Turkey
---
INGREDIENTS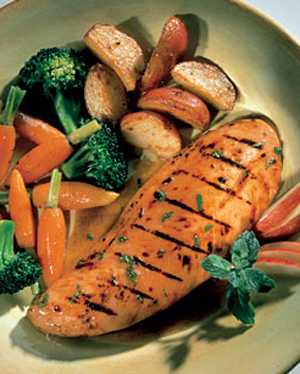 4 slices (approx. 1lb) Turkey Breast fillets
½ cup apple Juice
2 tbsp liquid Honey
1 tbsp olive Oil
1 tbsp mint fresh, chopped
1 tsp lemon Juice
¼ tsp cinnamon
DIRECTIONS
Mix all ingredients except turkey in a shallow dish.
Stir thoroughly to blend honey with juice and seasonings.
Slice turkey breast into 4oz fillets.
Add turkey fillet, turning to coat both sides.
Cover and marinate in refrigerator for 4 hours (or overnight), turning occasionally.
Remove turkey from marinade, pour liquid into small saucepan and set aside.
Barbecue turkey on oiled grill over medium-high heat for 5 – 7 minutes on each side, just until meat is no longer pink in center.
Add 2 tbsp water to marinade. Heat to a boil, boiling for at least 5 minutes.
Serve as a sauce with turkey.