---

Grilled Caesar Salad
---
Head to the grill for a savoury twist on Caesar salad with an interesting texture. Altering your caesar dressing for a more intense lemon zing adds to the combination of cool, crisp romaine with a hint of chard flavour. Great on it's own or beside a grilled Great Steak ribeye! Yum!
INGREDIENTS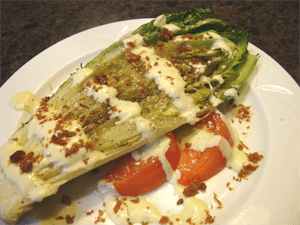 2 tbsp lemon juice   #10210
1/4 cup, plus 1 tsp olive oil   #13736
1/2 cup caesar dressing   #05080
3 romaine hearts, sliced lengthwise in half
Salt and freshly ground black pepper
1/2 cup shaved parmesan cheese   #20690
6 bacon strips, fried and crumbled   #27148
1 cup croutons   #07390
12 cherry tomatoes for garnish   #83053
DIRECTIONS
Combine lemon juice, 1/4 cup of olive oil and caesar dressing in a bowl until well blended.
Gently coat the hearts of romaine in remaining olive oil and season with salt and pepper. Grill for 2 minutes, until grill marks appear and the romaine becomes wilted.
Place the lettuce on the plate and drizzle with the dressing.
Garnish with the shaved parmesan cheese, crumbled bacon, croutons and cherry tomatoes.