---
Thai Trout
---
INGREDIENTS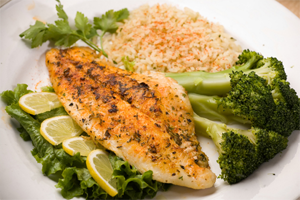 2 large sweet onions, peeled and quartered
¼ cup ginger, peeled and sliced
6 cloves garlic
½ cup lemon juice   #10262
½ cup soy sauce   #06485
1 tbsp. ground cumin   #13938
1 tbsp. ground turmeric   #14097
¼ tsp. red pepper flakes
¾ cup canola oil   #13732
¼ cup cilantro, chopped
12 Trout fillets 7-9 oz   #65055
3 cups Peanut Sauce*
prepared basmati rice   #02171
steamed vegetables
DIRECTIONS
In the bowl of a food processor, puree onions, ginger and garlic.
Add lemon, soy, spices (except cilantro) and puree again until smooth.
With the motor running, add oil in a slow, steady stream to emulsify.
Remove marinade from processor, stir in cilantro and set aside.
Wash trout fillets and pat dry.
Pour marinade over fillets in a bowl and toss gently to coat completely.
Cover and refrigerate 45-50 minutes to marinate.
To Cook Each Fillet:
To grill, on a very hot, well-oiled grill, place marinated trout fillet flesh-side-down and cook 2-3 minutes, rotating to create crosshatch marks.
Turn fillets and finish cooking 2 minutes or until cooked through. (Trout fillets may also be broiled 4-5 minutes until golden brown and firm.)
To Serve:
Plate each grilled trout fillet over 1 cup basmati rice and top with 2 Tbsp.
PEANUT SAUCE (3 cups)INGREDIENTS
1-½ cups Reserved marinade
1 cup (6 oz.) Chunky peanut butter
1 cup (7 oz.) Unsweetened coconut milk
1/3 cup Granulated sugar Chicken stock as needed
DIRECTIONS
In a heavy saucepan combine all ingredients except chicken stock. Bring to a low boil, reduce heat and simmer 2-3 minutes. Use as directed above, adding chicken broth as needed to thin sauce to desired consistency.
Serve accompanied by steamed vegetables, if desired.