---
Boardwalk Italian Beef Sandwich
---
INGREDIENTS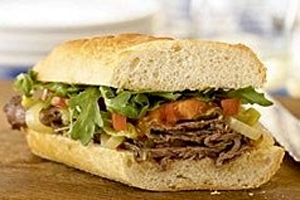 3-lb beef-sirloin tri tip (rump roast), trimmed of visible fat
1 medium onion, thinly sliced
1/2 cup water
1 jar (11 or 12 oz) pepperoncini peppers, sliced (reserve 1/2 cup juice)
7 ounces Italian salad dressing mix
2 tsp minced garlic
2 loaves Rosemary focaccia bread (Cut lengthwise in half)
Serve with: arugula and tomato slices
DIRECTIONS
Place beef and onion in a 3 1/2-qt or larger slow-cooker.
Add water, pepper juice, salad dressing mix and garlic. (If you have time, cover and place in the refrigerator to let beef marinate for several hours, turning occasionally.)
Cover and cook on low 8 to 10 hours or until beef is very tender.
Brush cut sides of rolls with some of the cooking liquid.
Transfer beef to cutting board; slice thinly.
Serve between bread with arugula, sliced tomatoes and sliced peppers.
**Can be made ahead for a quick lunch special.
**Leave whole and sell by weight!