---
Veal and Asparagus Bundles
---
INGREDIENTS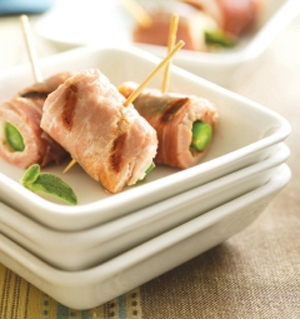 1 lb veal scallopini (approx. 4 pieces)   #28257
4 asparagus spears, blanched   #18100
1/2 cup shredded Asiago cheese   #20781
1/2 tsp freshly ground pepper   #14030
4 thin slices, prosciutto ham   #29260
24 small sage leaves
DIRECTIONS
Arrange one slice of veal on a clean work surface.
With long side facing you (the piece sitting horizontally), arrange an asparagus spear in the bottom third, closest to you.
Sprinkle with 2 tbsp (30 mL) of the Asiago cheese and sprinkle with one quarter of the pepper. Roll up.
Wrap a piece of prosciutto to fit over the veal, arranging six small sage leaves in between the prosciutto and veal; secure with six toothpicks at regular intervals.
Repeat process with remaining pieces of veal and ingredients.
Heat grill to medium and grease. Arrange veal rolls on greased grill, turning, until grill marks are on all sides and veal is cooked and cheese is melted; about 3 minutes per side.
Let sit 5 minutes.
Slice each roll into 6 pieces.
Makes 24 pieces.