---
Duck Proscuitto Flatbread
---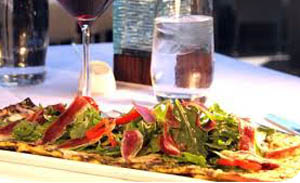 A fun and colourful starter with tones of flavour and eye appeal! Great for sharing or offer half the amount at lunch with a cup of homemade soup.

INGREDIENTS:
1 oval flatbread, grilled   #38315
2 oz mozzarella cheese   #20680
4 oz bocconcini, sliced   #20633
1 cup baby arugula leaves
2 tsp peppedew peppers (sweet, with a mild heat, from South Africa), sliced
1 tbsp olive oil   #13734
Juice from ½ a lemon
Salt and pepper
1.5 oz duck proscuitto, shaved   #76790

DIRECTIONS:
Heat oven to 500°.
On a hot grill, place flatbread for about one minute on each side; this should give you nice grill marks.
Place grilled bread onto a sheet tray, coat completely with pesto and sprinkle with mozzarella. Cook in oven for 4 ½ minutes.
Dress your arugula with peppers, oil, lemon, salt and pepper. Place on finished flatbread and top with proscuitto.
PROFIT POTENTIAL




Approx. Cost - $3.87Suggested Sell - $12-$15Profit - $8.13-$11.13/serving