---
Turkey Chili
---
INGREDIENTS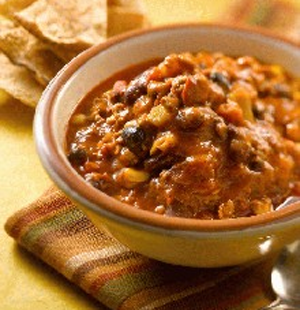 3 tbsp olive oil
1 large onion, diced
6 stalks celery, diced
1 tbsp garlic, minced
6 tbsp chili powder
2 tsp each ground cumin, dried oregano, dried basil
1/2 tsp cayenne pepper
1 bay leaf
1 jalapeno pepper, diced (optional)
1.5 lbs ground turkey
2 cups roasted red peppers, chopped
2 cups black beans, drained and rinsed
2 cups red kidney beans, drained and rinsed
4 cups diced tomatoes with juice
1/2 cup tomato paste
2 cups frozen corn
Salt and Pepper to taste
DIRECTIONS
In a large pot on medium, heat olive oil and then sauté onion and celery until softened.
Add spices and sauté for five more minutes until mixture is fragrant.
Add ground turkey and sauté until meat is cooked and slightly browned.
Add roasted peppers, beans, tomatoes and tomato paste and stir to combine.
Reduce heat and simmer for 30 minutes.
Add corn and simmer for 15 more minutes.
Serve.
Great with pita chips and a dollop of sour cream or a sprinkle of shredded cheddar! Makes approx 12- 1 ¼ cup servings. Recipe can easily be doubled or tripled.