---

Baked Stuffed Prawns
---
INGREDIENTS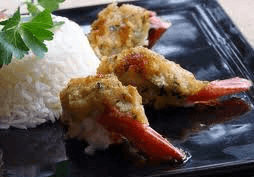 For Stuffing
DIRECTIONS
Preheat oven to 375°F. and butter a large baking dish.
Make stuffing: In a large heavy skillet cook mushrooms, onion, celery, garlic, and parsley in butter over moderate heat, stirring occasionally, until softened and liquid mushrooms give off is evaporated. Add scallops and cook over moderately high heat, stirring, 3 minutes. Stir in broth and cracker crumbs and remove skillet from heat.
Butterfly shrimp by cutting lengthwise along inside curve, almost completely through. Mound about 2 tablespoons stuffing onto each shrimp, pressing gently, and put shrimp, stuffed sides up, in baking dish. Melt butter and drizzle over shrimp. Sprinkle shrimp with paprika and bake 20 minutes, or until stuffing is golden.
Garnish shrimp with parsley and serve with lemon wedges.