---
Pork Supreme with Asparagus
---
INGREDIENTS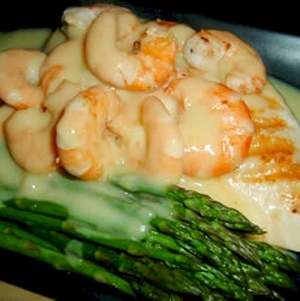 10 ounces frozen cut asparagus
1/4 cup water
1 tablespoon margarine
6 (4 ounce) pork cutlets   #27185
1/4 teaspoon crushed garlic   #05225
1/4 pound cooked shrimp #43132 (peeled and deveined)
2 ounces hollandaise sauce   #02677
DIRECTIONS
Place the water and asparagus in a saucepan, and bring to a boil over medium heat.
Cook covered 5 minutes. Remove cover and cook 1 or 2 minutes, until tender.
Drain and set aside, but keep warm. Melt the margarine in a skillet over medium-high heat.
Cook the pork cutlets 2 to 3 minutes on each side, or until browned and no longer pink on the inside.
Remove pork and set aside. Add the garlic and shrimp to the already heated skillet.
Cook over medium-high heat 1 or 2 minutes, stirring constantly until the shrimp is heated through.
Prepare hollandaise sauce.
Place each pork cutlet on a plate.
Top with the asparagus and shrimp.
Spoon hollandaise sauce over all.
*You can substitute the pork for a chicken breast and serve on a bed of rice pilaf.