---
Roasted Garlic, Brie & Grape Crostini
---
INGREDIENTS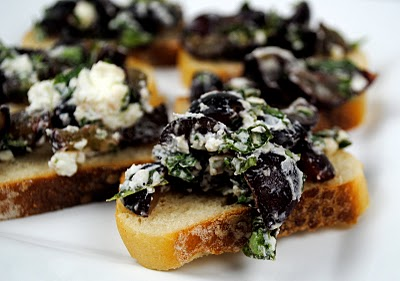 30 garlic cloves, peeled
1/2 cup olive oil   #13736
3/4 tsp ground thyme   #14125
1 1/2 cups seedless grapes, halved
1/4 cup ruby Port
1 tsp chopped fresh rosemary
1 baguette, cut diagonally into 24 slices, toasted   #38318
8 ounces Brie cheese, rind removed, room temp.   #20632
Fresh rosemary sprigs
DIRECTIONS
PREHEAT oven to 325°F. COMBINE garlic and oil in small baking dish.
Bake until garlic is tender, about 30 minutes. Drain, reserving 3 tablespoons oil.
Transfer garlic to processor.
Add thyme and reserved oil; puree. (Can be made 1 day ahead. Chill. Bring to room temperature before using.)
MIX grapes, Port and 1 tsp rosemary in bowl.
Let stand 15 minutes.
SPREAD each toast slice with 1 teaspoon garlic.
Spread 2 teaspoons Brie over.
Top with grapes and herb sprigs.