---
Phyllo Asparagus Spears
---
INGREDIENTS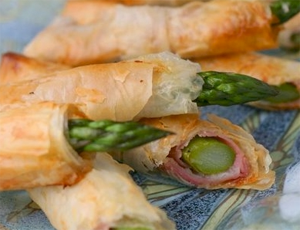 24 asparagus spears   #18100
6 sheets frozen phyllo, thawed   #36108
3 tbs of melted butter
cooking spray   #13615
12 thin slices ham prosciutto - (about 6 ounces)   #29260
1 cup grated Parmesan cheese   #20690
DIRECTIONS
Preheat oven to 450 degrees.
Spray baking sheet with cooking spray.
Steam asparagus, about 4-5 minutes. Transfer to a colander to cool.
Place 1 sheet of phyllo on a work surface (cover the remaining phyllo with a damp clean towel).
Brush lightly with butter.
Cut into 4 rectangular pieces.
Cut the asparagus spears down to 4 inch lengths.
Place 1 piece of prosciutto on each phyllo rectangle, lining up along 1 short edge.
Arrange an asparagus spear over the prosciutto, letting the tip lay beyond the top edge of the phyllo.
Sprinkle with Parmesan (I like it more than most).
Roll up and secure the edge of the phyllo with butter, if necessary.
When rolling, leave the asparagus tip unwrapped about one inch.
Wrap foil around the exposed asparagus tip so it doesn't burn.
Arrange on prepared baking sheet.
Repeat with remaining ingredients.
Bake until phyllo is golden brown, about 5-10 minutes.