---

Apple & Smoked Cheddar Scones
---
INGREDIENTS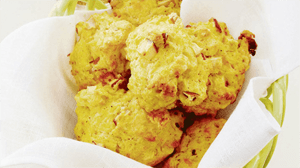 1 ½ cups Flour (#9125)
2 tbsp sugar (#9580)
½ tsp baking powder (#9015)
½ tsp salt   #13790
¼ tspn black pepper   #14030
5 tbsp cold butter   #44115
1 empire apple, diced
¼ cup smoked cheddar, diced   #20620
2 large eggs   #33520
¼ cup milk   #44141
DIRECTIONS
Preheat oven to 400 F. Place parchment paper on a baking sheet and set aside.
In a large bowl, sift together flour, sugar, baking powder, salt and pepper. Cut in butter with pastry cutter or fork until large pieces are broken up.
In another bowl, whisk together milk and eggs. Add egg mixture, apple and cheese to flour, stirring until dough comes together. 4. Spoon one generous tablespoon of dough per scone onto baking sheet. Bake until golden brown (approximately 20 minutes). 5. Transfer scones to wire racks to cool.