---
Apple Gravy Pork Chops
---
INGREDIENTS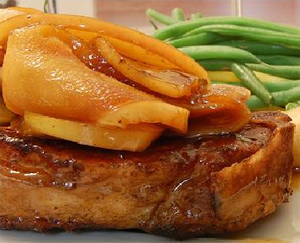 6 pork chops   #27169
1 tbls butter   #44125
1 tsp salt   #13791
1 tsp black pepper   #14031
3 large tart apples
3 tbls molasses   #11330
3 tbls flour   #09125
2 cups hot water
1 tbls cider vinegar
DIRECTIONS
Sprinkle pork chops with salt and pepper. Heat butter in a large heavy skillet; brown the pork chops on both sides.
With slotted spoon or spatula, transfer pork chops to a large shallow baking dish. Peel and slice apples, and arrange over pork chops.
Pour molasses over the pork chops and apples.
To the drippings in the skillet, add flour and cook, stirring, until browned.
Slowly stir in the hot water, and cook until bubbly. Add vinegar and a dash of salt.
Pour sauce over apples and pork chops in the baking dish.
Cover and bake at 350° for about 1 hour.
Serve with sweet potato and steamed green vegetables.