---
Turkey Tetrazzini
---
INGREDIENTS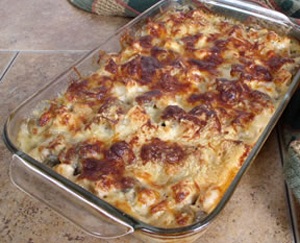 1 tbsp olive oil   #13736
8 oz fresh mushrooms, sliced
4 oz onion, minced
2 garlic cloves, minced
2 tbsp skim milk powder   #11130
1 1/2 tbsp cornstarch   #09103
2 tsp chicken base   #02891
1 tsp salt   #13791
1/4 tsp pepper   #14030
1/2 tsp onion powder   #14000
pinch of nutmeg   #13990
2 cups cold water
24 oz cooked turkey shredded   #32864
6 oz spaghetti, cooked until tender   #11580
4 oz shredded mozza/cheddar blend   #20665
2 tbsp grated parmesan cheese   #20690
paprika   #14020
"Turkey is one of the most versatile meats to use up as leftovers. Besides making a great sandwich or soup, try a casserole or a cold salad. Using spices and sauces to reinvent your turkey can be fun. Here are a couple of recipes for your leftover turkey."
DIRECTIONS
Heat olive oil in skillet, saute mushrooms just until tender, add onion and garlic, sauteed for one minute.
Combine dry milk, cornstarch, chicken broth, salt, pepper, onion powder and nutmeg with cold water in a large saucepan.
Cook over medium heat until mixture thickens and begins to bubble.
Arrange noodles in a 2-quart shallow baking dish.
Spread mushroom mixture over the noodles; top with a layer of turkey.
Pour sauce over all then sprinkle with cheeses and paprika.
Bake turkey tetrazzini at 350° for 30 minutes, or until hot & bubbling.
Note:
For per order assembly; noodles, sauce and fried mushrooms can be made ahead and kept warm. Layer ingredients, using 6 oz of turkey per order in individual dishes. Microwave for 3 minutes and finish in the oven until hot & bubbling about 6-8 minutes. Serve with garlic bread and garden salad to start.