---
Pecan Cheese Balls
---
INGREDIENTS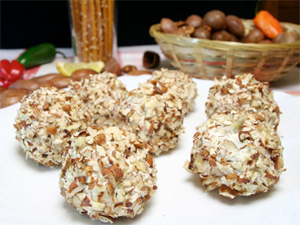 1/2 cup all-purpose flour   #09125
1 Tbsp biscuit baking mix   #04650
1 pinch cayenne pepper   #13880
1/4 cup butter, softened   #44125
1/2 cup shredded Cheddar cheese   #20595
1 egg, beaten 33510
1 cup rice crispy cereal   #04690
1/2 cup chopped pecans   #11697
DIRECTIONS
IN a bowl, combine the flour, biscuit mix and cayenne.
Stir in butter until crumbly.
Add cheese and egg; mix well. Stir in cereal and nuts.
Shape into 1-1/2 inch balls; place on an ungreased baking sheet.
Bake at 350 degrees for 18-20 minutes or until lightly browned.
Serve warm.