---

Sweet Corn Chicken Soup


---
INGREDIENTS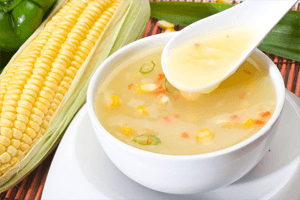 1L boiling water
25 g chicken base paste no MSG   #02891
200 g onions - finely diced
25 g butter - salt free   #44115
200 g sweet corn - tinned   #00594
50 g chicken breast- cooked and diced   #31624
150 ml cream   #44161
65 g butter   #44110
30 g cornstarch   #09103
1 tbsp parsley - freshly chopped   #87120
1 bay leaf   #13875
nutmeg a pinch   #13887
freshly ground black pepper to taste   #13877

DIRECTIONS
Melt butter in pan and cook onions over low heat until soft, but not brown.
Pour water over chicken base and mix well.
Add stock to pan.
Add sweet corn, bay leaf and chicken and bring to a boil. Simmer for 5 minutes.
Whisk in butter and cornstarch. Season with pepper.
Add nutmeg and simmer for another 5 minutes.
Stir in cream and parsley. Serves 6.